The ULTIMATE Guide To Northern Portugal
It's the first post I've ever made and it had to be an ultimate list of places to visit in Northern Portugal. If this doesn't scream 'obsessed' then I don't know what does. It's not bias (well, maybe a bit, my significant other is Portuguese), because I have visited this country 3 times and keep visiting and never get tired of it. There's just something about Portugal that feels like home to me. Perhaps it's the zesty odor of fruit trees mixed with radiating warmth from the gravel. Or the friendly smiles of everyone around you. Or possibly the slow, relaxed pace of life that reminds you of a childhood spent around nature and farm animals.
For the Northern territory I'm referencing this neat map I found online. It outlines different area borders in Portugal.
Let's delve into Northern Portugal! Vamos!
Northern Portugal
1. Santuário de Santa Luzia
Visit this wondrous modern (less than 80 years old) church inspired by Byzantine architecture. Rated 4.5 on Tripadvisor and one of the top things to do in Viana do Castelo. It will guarantee you a perfect selfie and solid, spectacular panoramic shots as you'll be able to climb all the way to the domed roof and marvel at the beauty of your surroundings!
2. Ponte De Lima
This place is one of the oldest Portuguese towns and a beautiful mix of countryside, nature/landscape views and gardens. It's often referred to as 'the floral town' and by that you can guess it's awash with magnificent flowers. A tour around this area will last you between 2 to 5 hours and it's brilliant for a day trip. It's perfect for a daily walk if you're into historical sights or mesmerising natural views. This town does not fall short on the active side either though! There's a cycling route, kayaking, golfing, biking/hiking possibilities… or even bird watching! I think quaint little cities like this one are a must see so I'm including it in the list.
3. Castro Laboreiro
Visit this medieval, old-style GoT sort of vibe village called Castro Laboreiro! Go off the beaten track and learn about the habits/customs/traditions of the people living there. The village consists of a few visiting points, such as: Museum Centre, Village Church, Castro Laboreiro Castle, Pillory, bunch of nice little churches and granaries/mills (yep, just like your grandparents used to have). Make sure to go by the Castro Laboreiro Interpretation Trail for a chance to see multiple wild animal species. Visit the Castro Laboreiro Kennels to see the breed of the same name, make sure to try some restaurants to taste some refreshing pesticide free food and have a go at some ancient arts, such as linen and embroidery.
4. Granaries of Soajo
In Portuguese these statues are called 'Espigueiros do Soajo' , which translates to 'Spikes of Soajo'. Which brings me to my next point – these statues are not statues at all, they're granaries. These were built nearly 340 years ago, all the way back in the 18th century to protect crops from weather and all sorts of little burrowing creatures (rodents, in other words). They're being used up to this day and are scattered around different parts of Northern Portugal. I find it amusing that they really look like crop coffins and I'm honestly unsure what inspired such design. It might've been related to the Portuguese praying for a decent crop yield – hence the crosses, but I'm just speculating! Let me know if you know the answer.
5. Castelo do Lindoso
Located just by the border of Spain and Portugal lies the castle of Lindoso. Unkempt but preserved in its authenticity this place brings you back to the 13th century Portugal ran by Afonso the Third. The purpose of the castle was to defend the country's borders from the Spanish. There are 2 museums within the castle for an entry fee of 15 euros, however, just strolling around the outer parts of the castle can be fascinating enough. Breathtaking, picturesque scenery and a bunch of Espigueiros nearby.
6. Peneda-Gerês National Park
This spectacular park dates back to 1971 and it totally has it all! Ancient, unchanged villages, furry friends such as: deer, horses, wolves, badgers, otters or bears and enchanting nature. It's really just a blast to the past in the most spectacular way, delivering you a full immersive 13th century experience. There's even waterfalls and a thermal village! Within this park exists the Castro Laboreiro, which already made to this list, Soajo and Lindoso. These are all approximately in the same territory. I can guarantee pictures here will look like they're straight from a postcard (that your grandmother received when she was 16 years old)!
7. Miradouro (Viewpoint) da Pedra Bela
The Pedra Bela Viewpoint, located at 829 meters height, is another must see in the Peneda-Gerês National Park. The breathtaking scenery overlooking the Cávado river and some small Gerês Village houses is just a shame to miss out on! In my opinion, the best place to visit would be in the evening just as the sun sets as I'm a sucker for all the romantic hues of a wine coloured sky. However, travelers around the world suggest to come in the afternoon when the majority of the visitors are already gone. For a moment such as this you'll likely want to keep it all to yourself! There's not much space in the viewpoint and to fully contemplate the sight it's best to be on your own with nature!
8. Cascata do Arado
Cascata do Arado is yet another waterfall located in the Gerês area. It is proclaimed by some to be one of the most beautiful waterfalls in the world. And yet, due to the rocky nature of waterfalls, it appears to be subjective whether reaching it is worth the time. It was funny to thread through traveler reviews reporting having no troubles climbing rocks with small children and then others confessing they had issues doing the same with grown men!
Well, as expected, my verdict for wild, serene places like these is always the same. Visit, protect at all costs! There is a steep hike to reach the waters, but it's absolutely worth it. The water is pure and crystal clear. Admittedly, it is cold to dip your feet inside! However, after a long hike to get there it feels more refreshing than anything else. The water doesn't run deep so it's a splashing paradise for your kiddos. It's also a very clean, untouched place (if you didn't catch me mention that already). You are advised to leave you car far away as the hills get pretty narrow and problematic. All that aside it's a wonderful, Nature infused place for you and friends/family!
9. Cascata Tahiti
A tropical waterfall in Gerês. It's left completely untouched, surrounded by nature and nothing else – as Portuguese things tend to be. The water is extremely clean and refreshing – must have during overwhelmingly hot summer days. There's not many signs on how to get down or get by this waterfall so many visitors warned to be weary of the slippery rocks. Personally, I love this raw feeling of nature when there's literally no landmark to help you around (dead crazy, I know). That's what helps me feel like a real adventurer at the core instead of just a tourist. A must visit around Gerês area.
10. Bragança
If you find yourself in the North-East of Portugal don't miss out on the spectacular city of Bragança. Titled a historical capital this city is a modern feat embedded with contemporary art museums and suburban skyscrapers, but also a stuck-in-time relic sporting 15th century medieval castles, farms, countryside and beautiful nature.
When you're visiting be sure to visit the castle of Bragança and Domus Municipalis – a granite building serving a yet unknown and puzzling purpose. Don't forget the museums and igrejas (churches). Make sure to head on to the all-encompassing Montesinho Natural Park for a stroll or a picnic. Near the park you will find a village bearing the same name, which will look like something from your old history textbook – rustic houses, wooden balconies and all that jazz. You can also find a list of animal species living in Montesinho natural park, revealing their wide variety and geology. Make sure to read this post if you decide to go.
11. Miranda do Douro Municipality
Strategically placed ancient Portuguese town, which has been a Roman and Arabian settlement throughout its existence. The small town bears its own language, folklore and is home of Posta Mirandesa – its very own dish. The most frequented excursion in the area is the Crucero Ambiental Arribes, which is essentially a boat tour unveiling breathtaking Douro scenery. An equally importantpoint of interest is the Douro cathedral, which is reported by many tourists as a beautiful area, surrounded by ruins, birds and… you couldn't guess this – a young baby Jesus with a hat! Certainly worth a visit.
12. Braga
Braga – home to one of Portugal's largest football clubs and also the oldest city crossing over 2000 years of existence. As you can probably imagine Braga is filled with ancient baroque structures, buildings and churches. A very religious city indeed, Braga hones festivals called Semana Santa (Holy Week) and is constantly vibrating from the chiming of the bells, rekindling its devotion to the spiritual world. As it seems to be a necessity in Portugal – Braga is prone to contrasting sights. Churches, bells, ancient vibes – all that, but a fiery and modern core, filled with young people and students studying in one of the biggest universities of the country.
When you're here it's most compulsory to visit Bom Jesus do Monte – religious sanctuary, often visited pilgrimage site, which involves a decent climb, but awards you with spectacular views of the city. Praça da República seems like a good place to start your trip, being a wide area square with cafes and beautiful gardens. Garden of Santa Barbara, Chapel of São Frutuoso – a few more must-visits whilst in the area. The garden features exquisite, strict and elegant vibes, makes you feel like you're part of a medieval play whilst the chapel has a certain attractive eeriness. Surely, Braga deserves a whole post, so read more here.
13. Guimarães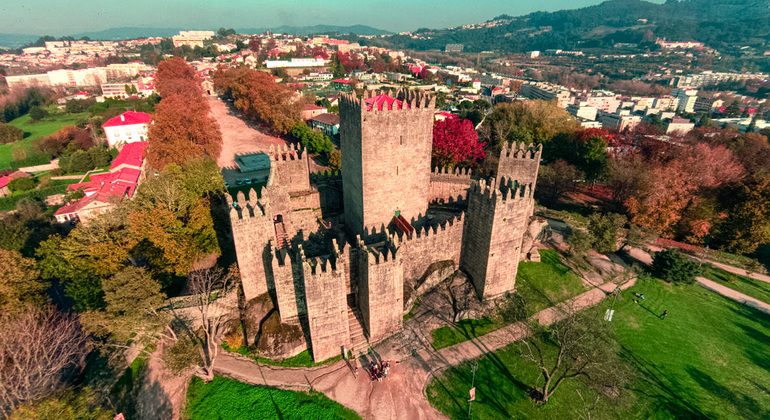 Proudly coined the 'birthplace of Portugal' – due to being the birthplace of Portugal's first king – Guimarães is packed with culture and just simply drenched in heritage. So much so that UNESCO acknowledged its significance in 2001 and declared its old center a World Heritage Site.
Furthermore, In 2012 the city was granted the title of European Capital of Culture. I believe, after stating all this it's relatively safe to say that Guimarães is one intriguing cookie.
Your number one thing to do would be to visit Palace of the Dukes of Braganza – gorgeous palace built in the 1420s and home to Catherine Braganza, wife of England's Charles 1st. Have a walk in the well preserved old town, which holds dear to its authenticity. Visit the nearby churches, which are always a pleasant sight in Portugal and don't miss the Plataforma das Artes e da Criatividade – a surprising sight in this medieval town as it looks so urbanistic, its facade lights up at night creating wondrous sights. See full list of attractions here.
14. Fisgas de Ermelo
Situated in the beautiful Alvão Natural Park lies one of Europe's largest waterfalls – Fisgas de Ermelo. Created by the flowing river Olo – this waterfall is a staggering 300m long and creates spectacular views. If you're a fan of natural beauty and love off-the-beaten-track attractions – this is it. Many have reported troubles navigating the park, no significant markers, cascading rocky paths, but this (I found) is what Portuguese are good at – preserving the unkempt beauty of nature. Treat this visit as a trek or an adventure and you will be rewarded with the most raw and touching sights.
15. Amarante
Ah, Amarante – the town that birthed some of the most important Portuguese artists and writers of the 20th century. You can imagine it's an eerie, dreamy place, filled with fantastic landscapes – a romantic dream awash with the young and sparkly vinho verde – a Portuguese necessity. Name Amarante comes from the Portuguese verb Amar (eng. to love), which explains why it's the hometown of São Gonçalo – the St Valentine of Portugal. Many people come here in hopes of finding true love, however, Amarante is a truly wholesome place for everyone: couples, lonely souls and families alike. As much as festivals (notably Festas de Sao Goncalo, featuring pastries shaped like men's private parts), Amarante also features many splendid sights such as Serra do Marão or Parque Florestal de Amarante, it also has an aqua-park for the little adventurers. Give this welcoming city a go, it will not disappoint!
16. Casa de Mateus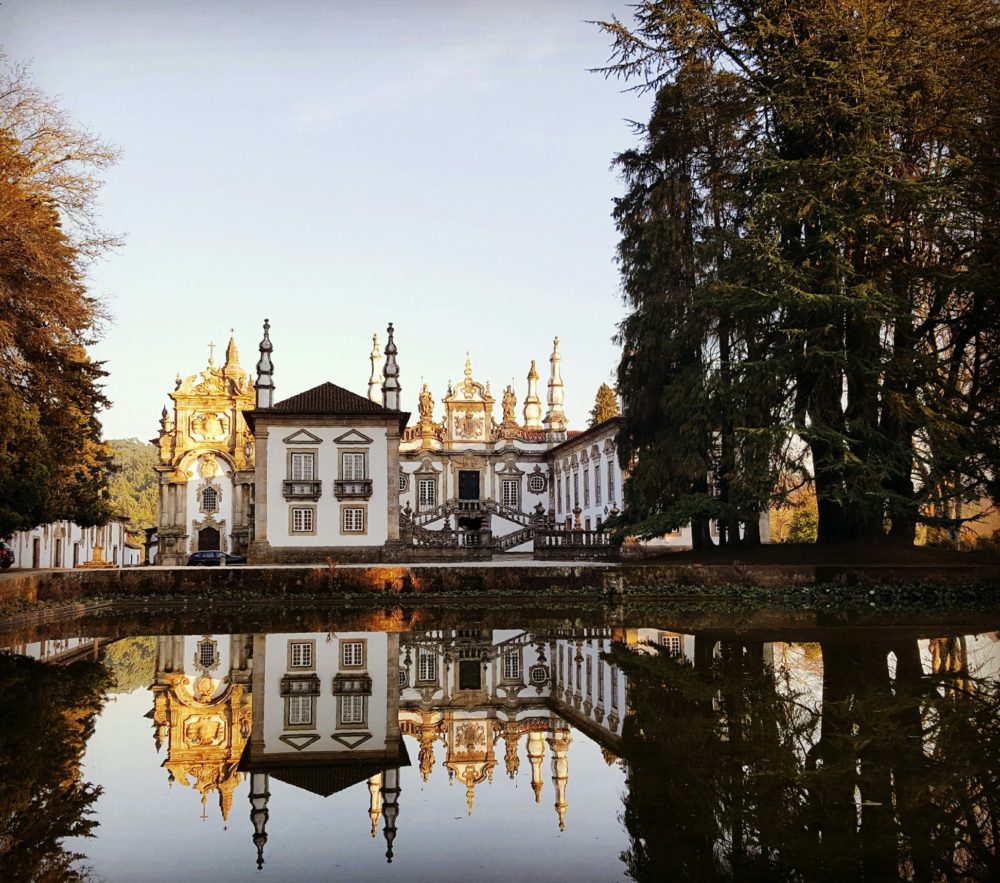 Built in the first half of the 18th century – this palace is thought to be one of the best examples of baroque architecture in Portugal. You can visit it by booking a tour beforehand and notably asking for English translation. Some of the finest points of the palace: impressively carved wooden ceilings, fantastic Portuguese style old furniture with a curious library, and spectacular well-kept outdoor gardens. If you're a wine connoisseur – this is just the place for you. The palace is famously depicted on bottles of Mateus rose, and there's a wine tasting tour for as little as 5 euros on the site. If you're religious (or just slightly attracted by curious oddities) you will enjoy an exhibition of holy relics: fingernail, set of eyeballs (of a saint?), a piece of the true cross – all of them have the Vatican proof of authenticity.
17. St. Leonardo de Galafura
This viewpoint of the Douro Valley (UNESCO world heritage) is said to have inspired one of Portugal's greatest 20th century writers Miguel Torga. One of his poems is embroidered in one of the nearby churches – Sao Leonardo. If it's not clear yet, the view is a must-see if you're in the area!
Many travelers report this to be one of the greatest views in Portugal just oozing peacefulness and serenity. Up high this viewpoint overlooks the Douro river, lush greenery, and multiple vineyards that create this grainy almost hypnotizing view. There's not much more to say about this except that you have to see this by yourselves. The view is so spectacular many find themselves at a loss of words trying to explain what they feel once they gaze upon this site.
To fully enjoy the scenery you're advised to pick some snacks as there are picnic tables around, including a tiny hidden restaurant at the bottom of the hill offering amazing local house wine.
18. Lamego
Art, architecture and wine? Do you tick all of these boxes? If so, Lamego is just the place for you. Even though this does sound like a poor 20s commercial, the prosperous university town of Lamego is pretty much that!
Often called Portugal's capital of Baroque (Rococo) this town is a delightful sight no matter where you look. Above all, one of its greatest and most popular sights is the Santuário de Nossa Senhora dos Remédios (pictured above). That alone attracts numerous visitors that need to climb almost 700 steps and 9 platforms to reach the top of the sanctuary! Similar decor cathedrals, convents, museums are all around the place. Perhaps it's worth to keep a mental note to take your camera with you!
Aside from its beautiful scenery, Lamego is rich in its agriculture, gastronomy and wine. The town is abundant with crops almost as much as vineyards. People there use corn for various meals and bread. Lamego menu includes extravagant dishes such as presunto, kid goat or rabbit. All of that gets deliciously swallowed with a wide variety of local sparkling vinho. Sounds like an actual dream? Sunset picnic date in a park in front of a Baroque masterpiece? Count me in.
Porto Area
Since Porto is the biggest city in Northern Portugal I split it into a separate section. This section will include worthwhile Porto sights/activities plus a couple of neighboring beaches. Perfectly balanced, as life should be!
19. Cálem
A must-visit for a true wine connoisseur or anyone visiting Porto. Everyone knows wine is a thing in Porto. They take their wines and wine tasting very seriously. Cálem is a wine house acknowledged for its excellence as they brew multiple different kinds of Porto wine. They will take you from A-Z in everything wine-tastic and by the end of the tour you'll be able to recognize wine by its fragrance and that's always a useful skill to have. Especially if you want to impress a waiter in a posh Italian restaurant. The staff is very well-informed, funny and engaging, they will make your visit worth the while. You will also be able to purchase your own favorite Port bottle at the end (or a few, who's counting).
20. Bolsa Palace
Lo and behold – the most visited building in Northern Portugal! Bolsa Palace (the neoclassical Stock Exchange Palace) is truly one of the most remarkable buildings in the whole of Portugal. The building itself took around eight years to be fully completed, and 60 years in total to have its interior taken care of. Needless to say, there is no trading happening here anymore, however, it now loyally serves as a tourist attraction.
As for entering the palace, you are not allowed to drift around unsupervised, a prior reservation and guided tour are obligatory. The guides reportedly don't carry around mics with them so do take your hearing aids and prepare to squeeze in the 50 people sized crowds to hear some fascinating histories. However, all will be worth it when you reach the famed Arabian Hall that just by itself took 18 years to reach full completion. To add to the grandeur, 18kg of gold embellish this work of art and not even a centimeter of space is left undecorated.
21. Ribeira
Welcome to Ribeira – one of the oldest city's neighborhoods and one of its finest. It has been given a UNESCO World Heritage Site and definitely not without reason. One of the best things you can do is simply have a stroll around the riverfront (as that's what Ribeira stands for) and marvel at the scenic sights. The whole area is covered in cafes, restaurants, shops, Port houses – anything your heart may desire. Nothing better than staring as the boats pass by sipping on a Portuguese cafe pequeno.
If you're looking for something slightly different to the above, there is a street lined simply with bars and clubs. Exists also an ancient cobbled alleyway resonating strictly of the times gone by. Ribeira is a truly a plethora of sights and scents of all that exists and already ceased.
22. Majestic Cafe
A cafe fitting its name! Or the name fitting the cafe. This place is truly giving off those postcard vibes. If someone told you ancient royalty held masquerades in here, you probably wouldn't be surprised. What also wouldn't come as strange is that J. K. Rowling herself was a Majestic cafe regular when she was modestly writing her very first Harry Potter book. I told you it's really majestic.
A cafe showered in history – previously existing under the name of Cafe Elite the place was shut down and forced to sell most of its antiques during World War II. Fortunately, saved just by chance by a man named Agostinho Barrias (old cafe enthusiast) this cafe was reconstructed completely using just an old photograph. The cafe was renamed to Cafe Majestic and due to its elegant decor picked up fame and became Porto's most visited cafe.
A slight tip if you want to save some pocket money, touristy noises and queues is to head on to Cafe Guarany. It is slightly less extravagant on decor but owned by the same Agostinho Barrias so features an identical menu for 1/3 of the price of cafe Majestic.
23. Mercado do Bolhão
Located in the heart of the city – the Bolhão Market is a must-see. It's one of the most popular and ancient markets in Porto that has been operating for more than a century. It is important to mention though that the market has been closed since 2018 as part of an amazing, humongous renovation project. The restoration is rumored to last for around 2 years, meaning that we're nearing its end and we're surely on our way to something fantastic!
Temporary markets nearby are still in place as the same local business owners can't stop their activity for 2 years straight! You can expect about anything a typical Portuguese market should have. However, even the temporary market has an elegant and calming atmosphere allowing you to visit the stalls at your own pace. There's no one shouting in your face forcing to buy the '2 bags of strawberries for a price of one' either. Fish, meat, vegs, cheese, bread, flowers, pate, olive oil – just part of the items to be expected here. A wide variety of fresh, locally sourced goods.
A GLIMPSE TO THE MARKET UNDER RESTORATION
24. Clérigos Church & Clérigos Tower

Dating to the very start of the 18th century the Clérigos tower and church complex is one of the most visited baroque landmarks of Porto. The tower is around 76m tall and after you're done sweating while completing the gruesome 200 steps that it takes to tackle it – you will surely be rewarded with some spectacular views of the Porto old town and the Douro River.
Not advised for claustrophobics as the tower staircase is repeatedly reported to be kind of a 'squishy' place to be and climbing all the way up may seem like a daunting task. However, in 1917 the tower was somehow climbed from the outside by two Spanish father and son acrobat pair, so there's always an alternative arrangement for those afraid of enclosed spaces!
The architect of the place – an Italian named Nicolau Nasoni is also buried within the chapel and the whole place is oozing with history and architecture. Check here for more info on guides & prices.
24. Livraria Lello
*Harry Potter theme song mysteriously starts in the background*
Wizards and wizardesses unite! Yes, this library is yet another inspiration for J. K. Rowling's world-famous book series 'Harry Potter' sparking a remarkable resemblance to the Flourish and Blotts bookstore mentioned in the best-seller.
Once a hangout spot for Portugal's most talented writers, poets and painters now this library is a sweaty touristy moshpit. It still retains its neo-Gothic charm, ancient rails used to move the books around, curved staircases and stained glass – all looking like a prop for a wizard movie. Heck, I wouldn't be surprised seeing a flock of owls landing down the staircase!
Despite getting thousands of visitors each day, the owner of the library was borderline bankrupt at one point as people were solely visiting the place for the architecture, not buying books. Since then he started charging tourists an entry fee that could be used as a voucher if you were to purchase a book, which worked like a charm and now he's a millionaire!.. And the place is a bit of a touristy mess… Regardless, the place is still worth a visit. Just make sure you come early in the morning (before 10a.m.) to secure your spot and avoid queuing in direct sunlight. Read more in the official website.
25. Matosinhos Beach
If you're travelling during the hot summer months and are from some colder parts of the world (or not necessarily) you'll likely feel a bit overheated from touristing around all day long. Matosinhos beach is the largest beach in the area and just a slight trip of 15min from the center of Porto. Due to its westward location it has its share of waves and all-around wildness. It's perfect for catching some waves or swimming. You might be a bit repelled by the cold water temperatures, but the surf costumes are cold-resistant so maybe that will be your kick to finally try surfing!
26. Senhor da Pedra beach
Yet another nice little beach down south to the Porto area. It's mostly famous due to the quirky chapel directly facing the wrath of the Atlantic ocean. It was situated here in an attempt to assert Christian dominance over the local pagan population. Seems it was a success. My only suspicion is: how on earth has it survived ever since year 1686? God only knows….
The beach is close to some touristy facilities, such as: cafes, shops and restaurants. The beach also features a rocky coast, therefore if you wish to swim/surf take caution of the hidden rocks.